"The art of medicine consists in amusing the patient while nature cures the disease." –Voltaire (a French author, humanist, rationalist, and satirist; 1694 – 1778)
A newspaper story as trigger
On the morning of 20th Jan 2016, I was reading a newspaper story that said, "Young Jains shun good life to become monks" with a subheading "IIT-M girl leaves for Himalayas." (See Figure below)
Something flashed in my mind – a conversation I had with AJ a few months back. And I urgently wanted to talk to him.
AJ, my bright nephew, is an entrepreneur of sorts. A product of Indian Institute of Technology (IIT), Kanpur, he had joined a multinational company (MNC) after graduation. He was a little over 21 years of age, and had started with a salary higher than mine. Incidentally, I was on the verge of my retirement after 38 years in service at that time.
He was extremely sharp and aware of his environment. He could count the feathers of a flying bird, as a colloquial saying goes. He had later changed jobs faster than I could change my dress, going for bigger and bigger MNCs. After about five years, he said, "all this is very boring" and started his own company with the name 'Big Owl.'
"Big owl"
and Baba
"Why this name?" I remember having asked.
"Well that is me, for wasting five years of my life with these MNCs."
"Don't you think experience counts?"
"Five years' experience is different from one-year experience repeated five times!" He had replied. He added with a cunning smile, "And I am not (repeat not) hinting at your 38 years' experience in Army!"
Within next two years he had sold his first software to an MNC.
Whenever he came to Delhi, he stayed with us. On his last visit to my place during Lohri festival, we had a discussion on the subject of medical practice. He knew that I was now in a private practice after superannuation. The discussion was initiated by him with a quote from Voltaire, "The art of medicine consists in amusing the patient while nature cures the disease."
I had vehemently disagreed and said, "That may be true for majority of chronic degenerative disorders but not for medical emergencies. Our science has developed some wonderful life saving treatments for many acute and emergency medical conditions."
"And how frequent is such medical emergency in comparison to all medical consultations?"
I reluctantly replied, "It will depend on the population being studied. There is one report that suggests, it may be around 10%." (Hegde BM. Future medical systems. JIACM 2003;2:92–5)
He laughed and said, "So, Voltaire may be true about 90% patients. Uncle, I have an interesting business idea for you. You should leave your practice and become a Baba (a holy man)!"
"Baba?" I was shocked. "Why? Pray tell! I think, I am useful to society the way I am. Many of my patients are happy to come to me and do get relief."
AJ had replied, "You will be helping many more people as Baba. You will also earn much more and I assure you, no risk of litigation at all."
He had caught my attention with the last part of his sentence, "How do I do it?"
The steps to become Baba
"You can start by marketing a magic 'Churna' (a powdered form of indigenous medicine) for digestion. You don't need a research and development (R&D) department for making it. Just mix two available 'Churnas' in the market, in a proportion of 50-50%. Some time later you can come out with more advanced 'Brahmrishi Arshankalp' and 'Sandhi Vidha Oil'. We can book a Khan, Hrithik or Amitabh for advertising."
I laughed. He was surely joking, "From where have you picked-up the names of these products?"
He calmly relied, "I am planning a startup company for your retired life. It's a part of National Vision called 'Start-up India'."
I was still laughing, "Sandhi Vidha oil, I believe! After you have spouted wisdom on the planning part, you can also handle my production department. I can sit in the shop and work as a shopkeeper."
He looked serious, "Uncle, there won't be just a single shop, there will be thousands of them. And your main business will be online!"
"But why do I need thousands of shops?" I asked.
His answer was simple, "Because your business is going to beat 'Aswini Ayurveda Ltd!' of Baba Brahmdev. It is as in 'Flipkart' against their rival, 'Amazon'."
Epitome
I realized that he was talking of Yoga Guru Swami Brahmdev and his enterprise.
He went on, "Like 'Aswini Ayurveda Ltd', you will provide free 'Vaidya' (indigenous medical practitioner) consultation. And Vaidyaji will advise a complex mixture of herbs, which only you will be marketing. Consultation will be free, but the herbs will cost Rs 9999/- for one week. Since consultation is free there is no fear of consumer court litigation. And the herbs are protected by Ministry of Ayush, Government of India. I tell you, Baba Brahmdev is a hero for all entrepreneurs."
I countered, "But Baba is a Yoga Guru, He is a charismatic personality with a huge amount of knowledge and talent. I have nothing but a few regular medical degrees."
He went on, ignoring my comment, "No FMCG (fast moving consumer goods) company has ever been able to make the amount of profits Baba Brahmdev is making. He is disrupting the FMCG space! For the last one year I have been thinking of making this suggestion to you. Lots of Babas are out there, but there is a space for a 'Doctor Baba'."
I laughed, "You are planning to land me in jail. Every other day I hear one baba has been taken into custody for fraud."
There was a twinkle in his eye. "The time is ripe for a genuine Baba to emerge from the shadows. Doctor Baba can claim the entire market! At the national level."
I thought I will humor him for the moment. "But I cannot do the Yoga contortions that he can!"
Himalayas help
He was not perturbed by this question at all. "Uncle, Baba Brahmdev is Yoga centric baba, you can have a different USP! First, we'll need to create a legend. You may have to go to Himalayas for a couple of years (You can choose any remote unknown place but Himalayas strike a chord among public like no other). There, you will get enlightened and come back to spread the truth among masses. You will need to think of the experiences you are going to have during these two years which you will later keep telling your devotees at the time of your 'Satsang' (a spiritual discourse at a sacred gathering)."
"And what will that truth be, pray tell!" I asked.
His eyes were still shining with enthusiasm, "You are being given two years to come up with anecdotes that you will be telling. Most of them can be inspired from umpteen mythological stories in Bhagwat Puraanas etc."
I retorted, "What if I start liking the stay in Himalayas?"
He laughed for first time,"Ha, ha. That is also a favorable outcome! If you really get inner peace, all this will not matter anyway!"
I reflected, "Too cold in Himalayas! I have done a stint at extreme altitude when I was young. I doubt I will like it there in my old age. But you are a real nutcase to dream up such a plan."
He had looked up sharply at me and said, "Uncle, I have not dreamt it up. These are immensely successful business models all around you."
I poked him, "Don't keep quoting Baba Brahmdev. He is an exceptional person."
Business models
AJ looked directly into my eyes and said, "Okay, forget about Baba Brahmdev; have you heard about Elitair Healthcare?"
His change of subject surprised me. Elitair was a popular chain of corporate hospitals.
"Of course, I have. We have Elitair Super Specialty Hospital near my house and they are a well known healthcare chain with large number of hospitals in their group."
AJ said in a low voice, "Do you know, it is owned by those who run Guru Balram-Krishna Dhyana Kendra on the banks of Tapti river ?"
I knew a bit about Elitair Healthcare. I have been listening to their advertisements everyday on FM Radio while driving to work. The advertisements said that they provide affordable healthcare to the underprivileged.
I had my reservations about it because many patients had told me that their charges were higher than some of the other corporate Hospitals.
There were also a few newspaper reports saying that they bought all their medicines and devices from their own Pharma company. It was alleged that maximum retail price (MRP) printed on medicines/devices given to hospital was hiked to more than double, so that they could charge their patients as per the printed MRP.
Two Gujarati brothers JP and KP, were running all the business of the family and were doing very well. They had spread their wings in several businesses – Insurance, Finance, Automobile parts, Pharmaceuticals and also Elitair Healthcare. Elitair was an enormous hospital chain spread across the whole of India. Recently they had been in the news for a mega deal with a Japanese company for one of their projects.
I had also heard a rumor that JP and KP were related to the famous Guru Balram-Krishna of the Dhyana Kendra. The latter was a famous (possibly most famous) religious sect with a huge following. It had Kendras almost in every city conducting meditation and satsang. The Kendra administration was run by volunteers including retired IAS, IPS and Army officers who were devoted to the cause. (AJ thought they were trying to make up with God because of what they did when they were in active service.). They taught good moral values and selfless service, and held evening satsang and meditations every day. What was AJ trying to tell me now?
Dispense tranquility
AJ again asked me in a low voice, "Do you know that the father of these two brothers is the "Guru" in Guru Balram-Krishna Dhyana Kendra organization?"
"Is he?!" I did not know. I didn't know how AJ knew, but generally he was accurate with his facts.
"Yes sir, he is the one who conducts their mega satsangs in Balrampur, the township that has been built around this Dhyana-Kendra Headquarters on river Tapti." AJ added.
I knew about Balrampur. The township was famous because of Guru Balram-Krishna Dhyana Kendra. It had a beautiful 'Dhyan Kendra Hospital' as well which was run by volunteers. Many of my colleagues often went there to offer social service free of cost. It had a very peaceful atmosphere. I had heard of stories about many troubled souls who had benefitted after going there.
"So JP and KP come from a Holy Family!" I remarked.
"Uncle, you are very naive. I have more to tell you" AJ continued. "Recently the "Guru" i.e. the father of these two brothers has been diagnosed with some incurable disease. It is widely known that his days are limited."
"So what? We all have to go one way or the other!" I commented
"Uncle you don't get it." He was very animated now. "Haven't you read the other newspaper report that Elitair chairmanship has been transferred from the elder brother JP to the younger brother KP?"
I asked, "What is interesting in that? Every company keeps having internal rearrangements for the sake of efficiency."
He appeared exasperated. "I think I will hand over my company 'Big Owl' to you! You deserve that name better than I. The Dhyana Kendra Empire will be headless if something happens to the father. So the elder brother JP has been relieved from the Elitair business to look after Dhyana-Kendras."
I remembered having read about change of chairmanship a few days back. "I take your word for it. I still don't get your point. Someone has to look after the running of Dhyana Kendras too."
Learning to be a Guru
AJ smiled. Obviously he knew something I did not. He said, "Uncle, the elder brother JP has been sent for training to become the "Guru." He has to take over from the father!"
I had once seen the elder brother JP. He was very polished, always in a smart business suit and tie. Educated at Harvard. I somehow could not imagine him as a Guru! I asked, "Will he like it?"
AJ plainly said, "Uncle, it is a considered boardroom decision. He will train for a year or so to conduct as 'Guru' and then will emerge with a flowing open beard, and traditional attire and start conducting the satsangs."
"But why is Dhayna-Kendra more important than Healthcare and other businesses?" I was wondering, when AJ came with this answer.
"Because Dhyan Kendras is the real business. Hospitals are just a side activity."
"Why do you say that? I think all hospitals run by Dhyana-Kendras are doing a great job at minimal costs, giving almost free treatment by volunteer doctors as a part of charity. They also provide free food to many. They must be running at a big loss."
Business sutras
AJ laughed, "Uncle, you really deserve my company name. All loss making charity is a tax saving activity. The real business is acquisition of property. Dhayna-Kendras work for charity, but keep acquiring bigger and bigger land in new places. All new Dhayna-Kendras start at the edge of the town on land acquired at very low rates due to a nexus with administrators and the declaration of proposed charity. Their business is marketing peace and solace. They also provide primary/secondary health care free to devotees. People want to live around them. Cities always grow around such Dhyana Kendras as most rich people have troubled souls. Once fully developed, that land has a price several times more than its original cost and Kendra will open another branch at the edge of new township with a huge booty in thier coffers. Today the land owned by Guru Balram Krishna Dhyana Kendra organization will be worth several times more than the total worth of all the companies put together. What do you think the Church has been doing all these years all over the world? And look how rich they are!"
"Oh!" I had nothing to say.
He gave me more business sutras. "Even the Elitair Healthcare Business is split into parts. The profitable parts i.e. the pharmacy and diagnostics are with the owners, because it is hassle free profit. Patient care is shifted to another public limited company which can keep dealing with all litigations."
I asked him, "In all your business model, where does the patient fit in?"
"Oh! He is the main consumer! He comes to shed his mental misery and is willing to pay the cost. Sometimes, he also gets his physical ailments cured."
Cure is byproduct
I was trying to see what he actually meant, "You think medical treatment is not required? One only needs mental solace."
He laughed, "Uncle, if you really know Vedanta philosophy, you will not run after doctors at the end of your life to seek expensive treatment of old age maladies. You will accept the end. And the biggest earning of corporate hospitals comes from these ailments."
I had not liked his vision of medical care, "But we're taught that medicine is a calling, a vocation, where you vow to comfort and relieve the suffering of humanity."
He laughed, "Uncle you are an anachronism. Look around you. Medical profession has given way to 'Health Care Industry!' Patients are being measured as 'foot-falls' in hospital premises. Today you buy a space in this industry by paying money to private medical colleges. Benefit to the patient has become a desirable byproduct, while earning profit is the main theme of this industry. And even if you deny it, the fact remains, in your practice, you earn from someone's misery, which is as much in mind as in the body."
I hated what he was saying, "And you want us to exploit that misery in his mind."
He flatly said, "You are already doing it. I am just suggesting a better model."
That's how our conversation had ended.
Management Mata
He had left me pondering over his last sentence.
Now, every time I charge my fee from an irritable bowel syndrome (IBS) patient, I feel guilty. I am reminded that I am earning from someone's misery.
Presently, I looked at the newspaper report again. It appeared to me that AJ had been able to convince someone to join his proposed start up to become a 'Mata'. After all, there are a lot of Babas around, there is still space available for an enigmatic 'Mata.'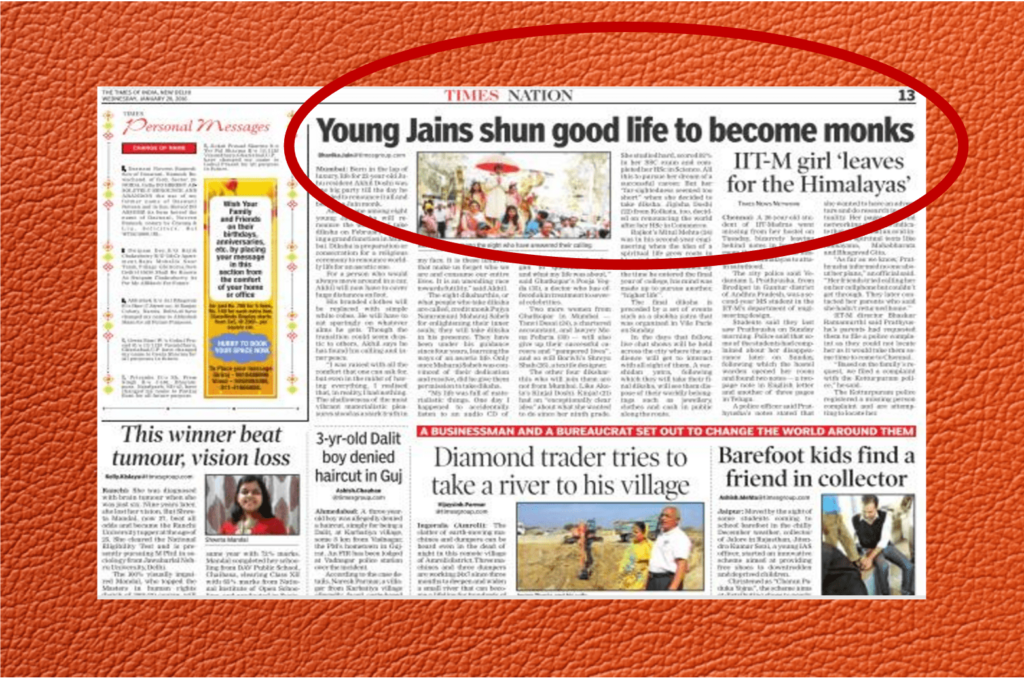 Explanatory note: Above conversation is real and is based on perceived facts. All names used for persons and organisations are fictitious. Any resemblance to a real person or organization is purely coincidental. This was written as an invited piece for a proposed book by a friend, which was never published. Meanwhile, I had a longish winter vacation from blogging. I may find it difficult to continue as before as I have acquired some additional time-consuming responsibilities. As a result, this write-up was brought out from the cold storage to be served as such. My cold storage has a lot more!